March 30, 2015
Striving To Be The Best In Upholstery Cleaning Machines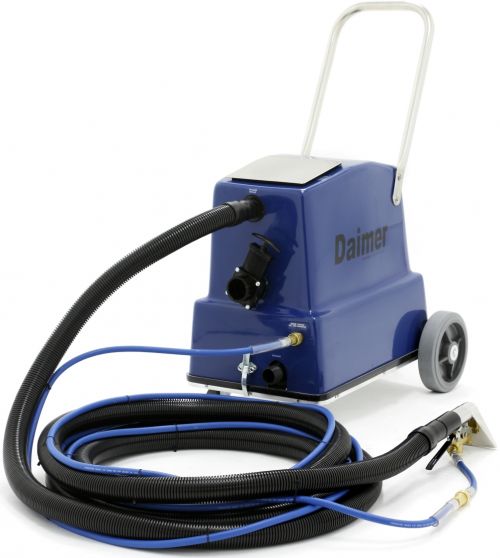 We have different dirt levels when it comes to cleaning with upholstery machines. Carpet cleaning in industrial settings cannot be compared to home carpets. With so many people passing by getting the best equipment to remove dirt and grime without causing damage to the carpet is a hard task. At Daimer we strive to produce high powered cleaning machines that meet your commercial and industrial carpet cleaning needs. We have a collection of cleaning machines and chemicals that thoroughly clean the most hidden parts without damaging the carpet. 
We have the best upholstery cleaning machines for your home and commercial use. The best part about using our upholstery cleaning machines is the eco-chemical used to clean up carpets. We advocate for the use of our eco-green carpet care solution, it lifts dirt from beneath the carpet. The eco-green carpet care solution improves the quality of air in your working area. Upholstery cleaning machines include 4" stainless steel, single jet upholstery tool specially designed for the hard to reach areas between car seats and floors. We also offer upholstery and carpet cleaning applications with an optional 12" carpet wand for larger applications.
We have the best carpet and upholstery machines worldwide. With advanced features that make it easy to use our machines are dawned with the latest technology for a beautiful clean finish. Here are some features that make us stand out:-
Low flow technology: - Remember the days you had to vacate the office for two days to allow cleaners to do their jobs. Not with Daimer carpet and upholstery machine, it cleans and dries within one hour. They deep clean and extract the dirt to the surface eliminating the most challenging stains and deposits from your carpet. The minimal drying time eliminates the risk of bacteria, mold, and mildew growth which develops on damp materials.
High pressure levels: - the upholstery wand attached to our power models works to extract water, solution, dirt and stains. With pressure levels up to 220 psi dirt embedded in carpets is softened for easy removal.
High temperature levels: - our power cleaning machines can reach up to 210degrees to dissolve tough dirt and stains within the carpet fibers.
Robust extraction: - our professional upholstery cleaning machines boast of powerful extraction capabilities to ensure that all the dirt and residue is removed from the surface completely.
Our high powered machines are made to clean and extract dirt leaving your home clean and fresh. Upholstery cleaning machines are normally used to clean hard to reach areas under seats and chairs. With the high pressure levels dirt is easily extracted from the carpet. Investing in our upholstery cleaning machines will mean less time cleaning. For professional cleaning services investing in proper equipment will mean repeat business.
All our power models are the best in the industry, here are some factors to consider as you buy your next upholstery cleaning machine
Budget - we have a collection of differently featured cleaning machines to choose from. It's important to make a decision on the budget depending on what you need it for. We have rug and upholstery cleaning machines to serve both carpet and upholstery cleaning. Buying 2 in 1 will save you on the const of investing in entirely new cleaning equipment.
Type of stain - we have to deal with different stains everyday from coffee stains to stubborn dirt stains. For home upholstery cleaning machines especially a home with kids you need to invest in a powerful and effective cleaning machine. We make our machines in the order that will ensure our customers enjoy clean carpets. Commercial upholstery cleaning machines use high pressure levels and temperatures to clean the grime and dirt from the carpet.
Features - all our power models come with different features. Choosing a machine with one that has more features will be convenient for your business. Upholstery cleaning machines come with rug cleaning features as well. With the long wand it can easily clean a huge room with ease touching each corner. We make sure you find the best cleaning machine depending on the function.
Customer reviews - if you are in doubt while buying a new machine take a minute to read reviews. Customer reviews will make it easy for you to make the final decision. Customer experience also helps us at Daimer to improve our machine technology and improve our machines.
Advanced in technology our power models use the latest technology to make cleaning easier. Using high temperature and pressure levels, carpets are cleaned within an hour. With such advancements in technology, our models have been named number one in the world. Carpet cleaning has come a long way from 1 to 2 days of waiting for carpets to dry to only 2 hours at most. Cleaning underneath car seats and getting to dirty corners of your home made easier with the upholstery wand cleaner. 
At Daimer we manufacture the best upholstery cleaning machine with all-purpose features. Investing in one of our machines will make your cleaning work easier for residential and commercial settings. We make it our business to deliver quality in cleaning machines and improve the carpet look. Our machines are built to clean carpets and improve the air quality of the office or home by reducing the drying time. Convenient designs and well featured to cover all functions when it comes to carpet cleaning for professional cleaning professionals.