April 05, 2016
The Top Three Daimer Carpet Extracting Machines
At Daimer, we believe in quality machines for your home and business. We strive to provide innovation and effective technologies at competitive prices, all while providing the peace of mind that our tested and proven machines will bring your carpet back to life while improving the health of the space its occupies. We are proud to present three of our most popular machines to help you get the deep clean you deserve: the XTreme Power XPH-9300, the XTreme Power XPH-5900i, and the XTreme Power XPC-5700.
Our XTreme Power XPH-9300 uses the same heating technology as more expensive models, while also coming with a 12" patented, rugged, adjustable carpet wand for 60% greater extraction, 2 free gallons of Eco-Green® Carpet Care & Upholstery Cleaner, and a 25' vacuum hose and 25' solution hose. Certain carpet are even able to dry in under two hours after being deep cleaned by this model.
The XTreme Power XPH-5900i is a commercial power clean that can be transported in a car, not a specially rented van. It has also advanced, adjustable temperature control technology to ensure it is able to reach the safest, most effective temperature for the carpet being cleaned.
Meanwhile, the XTreme Power XPC-5700 is a rug steam cleaner that uses unique low water flow technology, meaning it uses less water and has more extraction power to remove tough stains. This means it can not only deep clean a carpet that will be dry in under six hours, it will help conserve water too. This model is able to clean most every time of carpet, from synthetic to natural fibers such as wool.
Ordinary carpet cleaning machines are designed to tackle dirt and grime located at the surface of a carpet, which means they leave behind the mess embedded in the carpet.  Our machines work so well because they inject heated water deep into the carpet's pile, which can be enhanced even further through the use of our eco-friendly cleaning agents; we recommend spraying the carpet with these agents ahead of time, letting them "dwell" for 15 minutes before cleaning to ensure the best clean possible. The heat of the water helps blast grime off of the carpet's fibers, while the vacuum works to completely extract the mess to leave carpets clean.
High temperature, low-water carpet extracting machines are also notably effective because they allow you to clean your carpets without having to set aside a full day or two to let them dry. All of our models dry within eight hours, allowing you to host large events and handle the mess brought in by numerous customers without fear. This also means you can afford to let a stain sit if you're needed elsewhere, or don't have cleaning products on hand.
That said, hot carpet cleaners generally shoulder not be used on wool or other natural fibers, as the heat may cause them to shrink. At Daimer, however, we strive to offer the best commercial carpet extractor, and that means creating one that can safely handle such materials. Our multi-functional machines are able to independently use both hot and cold water, meaning you can use the same machine for any carpet.
Improving the Cleaning Power of Your Carpet Extractors
All of our machines come with 2 gallons of our Eco-Green® Carpet Care & Upholstery Cleaner, which is able to remove stubborn stains that usually require expensive and toxic spot removal options without harsh chemicals or sticky residue, all while boasting the benefits of being:
Chlorine-free
Non-toxic
Non-Flammable
Non-Corrosive
Non-Carcinogenic
Non-Caustic
Biodegradable
Hype Allergenic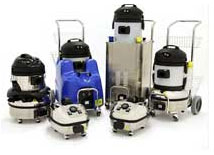 This means our solution is safe to humans and to the environment, all without sacrificing effectiveness. Our carpet cleaning shampoo can remove more stains than any other competing product, which means savings for you; you don't need to purchase a myriad of specialized products to remove particular stains. And since our solution doesn't leave any residue, it doesn't attract any dirt or pet dander to it. We are proud to say that our carpet cleaning solution can clean carpets with unrivaled effectiveness, without sacrificing the health of the environment or our clients.   
We also offer numerous attachments that can be used to clean furniture, stairs, upholstery, and other hard to reach areas that love to collect dirt. This also allows our machines to clean mattresses--which removes skin irritants and allergens that may be causing sore throat and skin rashes while also killing bedbugs--and other household items that are often a challenge to clean effectively.
Make sure you have the right tools for the job; ask a Daimer product specialist with any application or technology questions, and we'll be happy to point you in the right direction. 
For  more information on our carpet extracting machines, visit our website.