October 30, 2014
Upholstery Cleaning Machines Make your Life Easier
Cleaning upholstery has always been, and always will be a challenge. The issue, really, is keeping up with it. You see, it doesn't just sit there, completely unused. Rather, upholstery is always placed in a position where it will be used again and again for a variety of different reasons. For example, take the couch in your living room. You will always be using it for various reasons whether you are watching television or simply sitting there to read a book. Of course you are not the only one who will be using it, your friends, your family, and a host of others will constantly be utilizing this furniture and you cannot always control their actions, or at least not as much as you want to. Imagine how dismayed you will feel when one of your children spills orange soda on your brand new couch or when one of your beloved pets urinates on a love seat? The situation is even worse in your car. At some point you will find that you need to eat in your moving vehicle, or perhaps you will be transporting something that manages to spill all over your seats or floor. You might not have the best upholstery, perhaps not the most expensive, but let's face it, stained upholstery is stained upholstery. These are things you have to worry about, and they will happen at some point. The trick, however, is not to panic, and to make sure you have some sort of plan in place. To be perfectly honest, the best thing you can do is have upholstery cleaning machines ready and at your disposal. There are a few good reasons to have a commercial upholstery cleaning machine on hand, all of which are quite valid and very understandable. Let's talk a bit about how they work, and then you can decide whether or not you need one.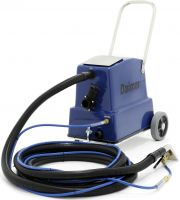 Do you Need Upholstery Cleaning Machines?
Upholstery can be anywhere, as we said before. It could be the chair in your living room, the office couch, the seats in your car, or perhaps you even chose to upholster your walls, who knows? The first thing you need to do is determine which type you need. You could go with the home upholstery cleaning machines, or if you need to step it up a notch you might go with a commercial upholstery cleaning machine to support an increased load. The problem with home models in an industrial setting is simply that you can force them to take on too much and they tend to wear out quite a bit faster than you would want. In the end however, the best upholstery cleaning machine is for you, and you alone to find.
Upholstery cleaners function much like steam cleaners in many different ways, though these are specifically for upholstery rather than for floors. That being said, this is a very specialized tool that you absolutely must have, especially if you own a car or are in the business of detailing vehicles.
Stains, while they might appear permanent, are often anything but. Typically, the substance, whatever it is, adheres itself to the fibers in the upholstery and at that point becomes very difficult to remove. Fortunately, hot water is an excellent removal agent as it will dislodge the substance and vacuum it into the upholstery cleaning unit. The only question is what type you need and how often you are going to be using it. As always it really depends up on the area, or in this case, the number of things that you plan to be cleaning. If you are running a detailing business, for example, it would be within your best interest to have something that can not only cover the area, but can do so without the need for a water change or water disposal every hour. You want to continue your cleaning, and you want to do it on a relatively reasonable schedule. That being said, make sure you actually do some comparisons before you make a purchase. If you take a look here at the Daimer website you will find that several options for upholstery cleaners are listed, and you will be able to select the one you want. If you are having trouble making a decision however, you will always have the option to select a few using the check boxes and once you do, you will be able to make an easy comparison. This information presented will tell you which ones you should be using, which ones you should avoid, and overall, which are the best for your application.
There are some that have larger tanks, some that come with better tools(as a relative term) and some that have a longer reach. Evaluate your needs and check into the different models as soon as possible. There is a strong chance that Daimer has something that you can use in either a business endeavor or in your own driveway. The options are nearly unlimited.