June 24, 2016
Commercial Steam Cleaners to Combat Kitchen Grease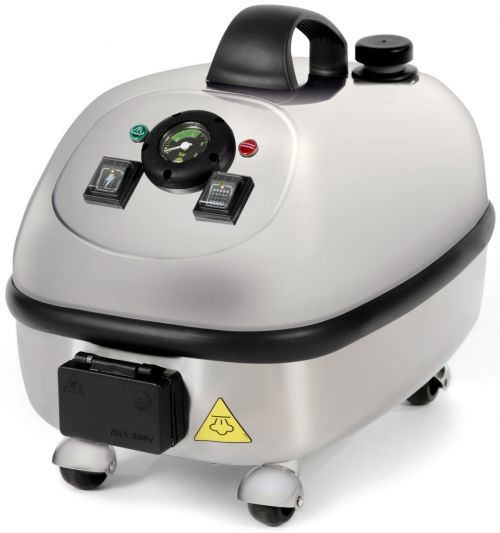 Restaurants being clean is critical to the patrons who will frequent any given establishment. One negative report about cleanliness can literally put a restaurant out of business. Grease can also attract many unwanted organisms into your kitchen. However, many don't do the best job because kitchen grease is one tough combatant. Most restaurants want to limit the use of harsh chemicals. Luckily, there is another alternative which can also reduce the cost of cleaning any commercial kitchen. That other option is that of a commercial steam cleaner which can provide that cleaning power you need in the form of a compact, versatile machine.
Two Types of Steam Cleaners
There is both cool steam cleaners as well as dry steam cleaners. The two operate in a different manner so it is important that you understand the difference. All of the commercial steam cleaners for kitchens offered by Daimer Industries are dry steam cleaners. This is what you would want for tackling tough kitchen grease. Whether you need a handhald machine for versatility or an upright machine for more power we have you covered.  
Steam Cleaning Machine for Kitchens
A steam cleaning machine for kitchens offer many benefits, especially in the kitchen. 
Steam cleaning utilizes water which is heated to clean effectively without the use of harsh chemicals. Cleaning with steam is one of the most environmentally friendly methods of cleaning. 
The heat from the steam can disinfect and sanitize nearly all kitchen surfaces.
Rather than cleaning with water which takes a while to dry, steam dries much faster. 
Cleaning with steam does a better job at cleaning in between nooks and crannies which can be hard with a rag and cleaning solutions.
Steam breaks up and dissolves kitchen grease with ease.
Uses of Our Commercial Steam Cleaner in the Kitchen
The benefit of our commercial steam cleaner for kitchens is that you can clean nearly any single surface in the kitchen. There are few that are off limits. Did you know using our machine on soft or fabric surfaces can be used if you follow the guidelines found in your owners manual? 
Tile or Vinyl  Floors – Easily remove grease, dirt, mud, shoe stains, grime, and more. Note: Do not use on laminate floors.
Granite Countertops – Use our steam cleaners to remove bacteria, viruses, grease, and other unwelcomed substances. 
Prep areas – Use our steam cleaners to santize cutting boards which may be hosting E. Coli or Salmonella. 
Sinks and drains – Does your sink have an odor? If so, you may need to sanitize it. Smells are often caused by bacteria which can be eliminated by using our commercial steam cleaners.
Bathrooms - Utilize the commercial steam cleaner in the bathroom to disinfect and leave your customers with a positive experience after leaving your restroom. 
There are many more applications of use with our commercial steam cleaners for kitchens. 
Industrial Steam Cleaner Manufacturers for Commercial Kitchens
Daimer Industries didn't invent the steam cleaner, we just perfected it. We are firm believers in using high quality products and building our steam cleaners to be modular in nature. Meaning, if a part fails we will happily sell you the part to fix the unit. Many companies would require you to buy a new machine. This can end up being quite costly and Daimer is here to be your long-term partner. Our goal for every one of our units to produce a postive return on investment to our customers. 
Daimer proudly holds many approved patents for our ground breaking technology that is available to you. All steam cleaners are not created equal. Our KleenJet line of commercial steam cleaners are fantastic at cutting through kitchen grease. In fact, our machines are so effective at this task that we meet or exceed the high standards which were created by the US government. With over 6 different options, you may wondering how do I know which unit is best for me? It would be best to contact one of our product experts who can ask you some simple questions to point you in the right direction.
Give us a ring at 1-877-830-7346 to speak with a product expert today. We are around 24 hours a day, 7 days a week to answer your questions and assist you in choosing the right commercial steam cleaner to meet your needs.That is our commitment to excellent service.