October 02, 2014
Back to new with a Steam Cleaning Machine
If you happen to be running any sort of business, then you are going to need some kind of steam cleaning machine whether you go with a large unit or one of the more units. A commercial steam cleaner is a must for anyone, but before you jump onto the bandwagon, it will be important for you to understand just how a steam cleaner works and why you need one.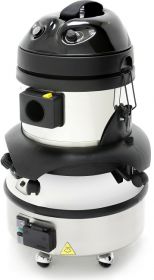 Steam Cleaning Machine Facts
The first thing you need to know is that steam can effectively clean wtithout the use of harmful chemicals, it is considered a safe method of cleaning, and extremely cost effective.  Additionally, steam has been known to kill some of the more well known bacteria including e-coli, salmonella, and even listeria. All in all, steam is an outstanding cleaning tool, but how does it clean exactly? The method might be a bit simpler than you think.
First of all, it is important to note that dirt and grime have adhesive properties and can to stick to anything.  Heat and steam serve to override these properties, and once the heat is properly applied, all one needs is a cloth to wipe away the offending dirt. In a steam cleaner, water is  heated above the boiling point, at which point the steam is produced and transferred through a hose, and then through a nozzle. As it is applied to the surface, the process we mentioned before takes place, and it can continue to do so until the water container is completely emptied.  A good commercial steam cleaner can be a bit expensive, but in the end, you will find that it is entirely worth it. The trick, however, is to ensure you purchase an industrial steam cleaner rather than a home model. There are some significant differences including:
Stronger internal components
Larger tank capacity
Longer hose
Longer run time
Greater pressure
Etc
In addition to that, you will find that many of the higher end models, particularly those offered by Daimer are EPA compliant, unlike other consumer models on the market. Keep in mind that while a professional steam cleaner does feature a large tank it will run out of water eventually, which is why you want something with advanced continuous refill technology – meaning that water can be added at any time during the cleaning process without shutting the unit down for any reason.
For All Occasions
A portable steam cleaner can be used for many different purposes. For example, you might choose to utilize it as a car steam cleaner, or you might go so far as to use a steam cleaner on your hard wood floor. These, among other applications, allow you a much cleaner, much saner work environment, and while steam cleaning equipment can be very expensive, it will prevent additional expenses in the future. Some expenses could include the replacement of floors/equipment or even health issues that must be resolved before your business can continue normal operation. This, among other reasons, are great for owning a steam cleaner.
Finding a good steam cleaner for your  company is a matter of patience and general understanding of what you need. In other words, don't rush out and buy the first thing that you see. While you might have an urge to spend as little money as possible, you must also consider that a cheaper model, nice as it may be, might not have all of the features that you are going to require down the road. Higher capacity tanks, greater pressure, and additional features might simply be better off for you in the long run, even if they do cost a bit more. You have a lot of very important decisions to make before you can settle on any particular model, so start reviewing your needs today so that when the time comes you will be able to choose the model that is right for your particular business.