November 03, 2014
Daimer Steam Cleaners for Every Job
Welcome to Daimer Industries, the world's biggest brand in industrial cleaning equipment. We pride ourselves on being the leader in commercial and industrial cleaning. We're proud to show our extensive list of client companies, from Burger King and Motel 6 to BMW and the White House itself. We have products that are strong enough for industrial use, but work efficiently and smoothly enough for homeowners to use in their homes. The list of products is extensive and strong enough for nearly any mess. Steam cleaners, pressure washers, carpet cleaners, even auto detailing; we have it all, and the products are built to suit every need and every building.
If you visit our website, you'll find it easy to maneuver through, complete with links to every line of our products. Everything is carefully explained, with the basic details listed right under each product name. All main questions are answered right on the product's page, along with what is included in the purchase. 
Our Steam Cleaners
Our steam cleaner models are built to last, ready to take boiling steam to clean through whatever mess is there. These products are efficient, and won't make the water bill skyrocket. They've been built with durability and reliability in mind and thoroughly tested.  Best of all, they're easy to use and even easier to clean. No professionals needed, and there's no need to get a certification to use it. Daimer products are strong enough for industrial uses across the globe. We ship door to door, make replacement parts readily available internationally, and assure you that no professional maintenance is required. We don't want our products to be as difficult as rocket science. These are made for every business owner, no matter how small the company.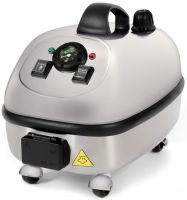 There are different types of steam cleaners, including carpet cleaners, vapor cleaners, pressure washers, and car washes. Each of them is made for its own purpose, though they can be used for whatever necessary. Our KleenJet line is EPA compliant, and many of the commercial grade products are on promotion. The Xtreme Power line of carpet cleaners come with two gallons of eco-friendly carpet care liquid, and with our limited time offer, also come with up to four years worth of filters for free. The Super Max line of pressure washers are the most rugged and durable on the market. 
Carpet Cleaners for every Carpet
There are other kinds of carpet cleaners, as well. There are walk-behinds, with suction and airflow strong enough for messy industrial carpets and two free gallons of carpet cleaning liquid. For automotive carpets, there are the car carpet extractors with the reliability and durability Daimer is famous for. It's the only cleaner that is best for professional car washing, and will keep each automotive clean without damaging it. Our upholstery cleaners have strong airflow and suction, and have incredibly short drying times. Your business will be sparkling clean and ready for the customers by the next morning.
High Pressure Washers
Our pressure washers heat the water up to 300° F and release high pressure wet steam (~15%-20% vapor). Our SuperMax line of washers have the highest quality for small or large businesses, and use diesel, electricity, or propane; whichever your business needs. There are many different options, including auto shutoff washers, cold-water washers, or all-electric ones. If there is not one for your business, we offer custom made pressure washers, specifically created for your business' needs. Each Super Max pressure washer is built in the USA, made to our high standards.
Auto Detailing Options
If you're planning to start a mobile car business, Daimer has got you covered. We don't just have car carpet cleaners, we also have interior hard surface and exterior steamers. They're powerful enough to clean every mess while delicate enough to leave the car with no visible or lasting damage. There are plenty of options to choose from, all with the guarantee that our products will live up to their name, unlike some other cleaners. Daimer portable carpet cleaners come with free shipping and no sales tax, and clear customs with no problem. Read more about our auto cleaners here, and decide how much Daimer could help keep your automotive clean as a whistle.
Daimer Industries works hard to find the best fit for every customer, as we have been for years. We pride ourselves on providing high quality durable equipment. We want to have the best for less, to keep every customer with smooth running equipment with years to come. We offer deals throughout the year, and lease to own products for those who might need our help. You can request a quote at any time, and get an answer quickly. However, our products don't need a lot of introduction nor fanfare. Try us out, and add a Daimer cleaner to your arsenal today! Click here to begin your search for the perfect cleaner for your home or for your business.