February 25, 2015
How Effective is a Gum Removal Machine for Your Cleaning Business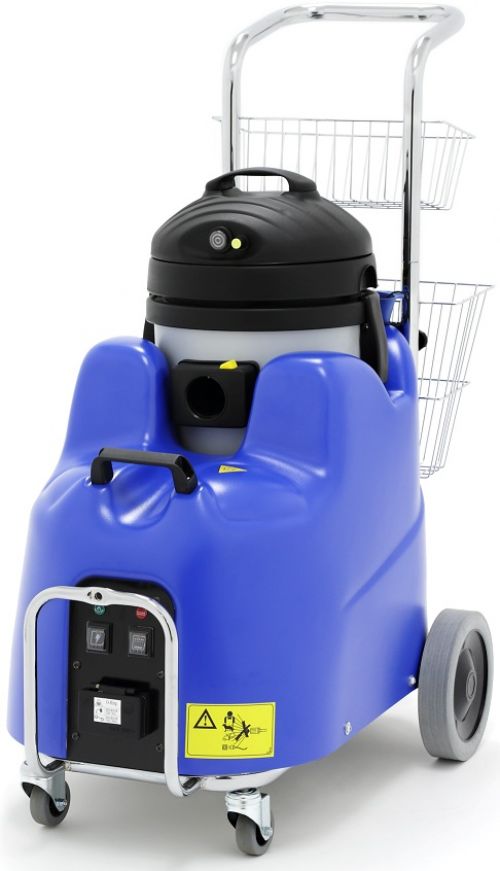 Removing gum from any surface can become difficult, especially when it has become hard and sticky. Gum that is stuck underneath tables, chairs, mashed into carpet or the walls itself are a common occurrence among business such as schools, hotels and movie theaters. A gum removal machine can be an effective tool for your cleaning business by bringing in clientele and making your business profitable in helping to clean up the gum easily.
A gum removal machine is a specialized machine that is durable and it is imperative that there are certain features that the machine should have. For instance, one that is efficient should be of high quality and is updated of the best technology to not waste time or money for your business or your clientele. A good machine should work well on most any surface inside of a building as well as outside of the building.
Selecting Gum Removal Equipment That Works the Best
There are numerous selection of gum removal equipment that could get the job done, however, knowing which one will work the best will save you money as well as cut the cleaning time. Gum removal steam cleaners are the best choices to use for cleaners that are more professional. Many features should be looked into for the particular steam cleaner.
Highest Temperature Output
The average temperature that gum removal steam cleaners should be at the minimum of 300 degrees Fahrenheit, yet some can reach a higher temperature then that of over 360 degrees. The high temperature will allow the user to remove the gum without much effort and is efficient because a lot of time will not have to be spent on cleaning the area. Whether the gum has been placed in the area recently or has become a hard mess, the machine will be able to melt down the gum pieces and in a quick process.
Not Only Cleans, but Extracts
Although this is specialized equipment that can remove gum instantly, it can also extract any dirt that surrounded the area. Gum removal steam cleaners can have extra attachments so that the operator does not have to carry a separate vacuum cleaner around, making it a dual role machine. These steam cleaners can handle the worst of gum wads while cleaning the residue that is left from the gum by using a special type of solution that is eco-friendly and has powerful cleaning capabilities.
Removing Unwanted Bacteria by Sanitizing
When leftover gum has be extracted, the next solution to a thoroughly cleaned area is sanitizing it to remove any bacteria or microorganisms that had made its home of the gum pieces. Just removing the gum itself does not sanitize the area. Gum removal steam cleaners will help to kill the bacteria and microorganisms because of the high temperature that is being used.
A gum removal machine is an investment and the specific type of machine should be an important decision for your cleaning business for efficiency.
Daimer Offers Gum Removal Equipment for Sale Online
So you're now looking into finding the right equipment to remove gum that will blow your competition out of the water and for your business to excel. Daimer offers gum removal equipment for sale online so that you are able to view detailed information and specifications that you are seeking. Of course, there are many online retailers that sell equipment that are similar, yet you may not be getting the best value for your money. Daimer provides high quality equipment that will get the job completed in the best way.
We have several gum removal equipment for sale online that have powerful cleaning action and anti-bacterial technology. The KleenJet Mega 1000CVGP is our most popular machine to remove gum. It offers features such as:
The steam vacuuming cleaner is equipped with a 4 liter, stainless steel boiler that has Daimer®'s lifetime warranty.
The unit offers pressure levels as high as 105 PSI.
Other features include advanced technologies, such as ATIS® and Advanced Self-Regulating Continuous Refill Technology
Steam pressure levels of up to 356°F
We also offer the KleenJet Ultra 5000CVG which is our most powerful of our machines. The features offered for this machine include:
The machine offers steam temperatures as much as 369°F for versatile cleaning applications and enhanced cleaning results.
The Ultra 5000CVG comes equipped with a lifetime warranty, 5 liter, stainless steel boiler.
Pressure level offered by the system can reach up to 125 PSI.
The robust machine comes with Daimer®'s Non-Stop Steam™ that ensures high pressure vapor flow throughout the operation, and continuous refill feature.
Detail brushes
No matter which of our machines that you choose for gum removal, you can rest assures that you've chosen the best for commercial and industrial cleaning. We make the equipment affordable as possible by giving discounts so that you are able to stay within your budget. Review and decided wisely on the type of gum removal machine that will work the best.
Contact us by phone 1-800-471-7157 or through our website for any questions that you may need answered about our machines. Find out how our machines will deliver the best results in the shortest amount of time. We look forward in helping you find the best machine to help your business strive further. We guarantee that our equipment will give you better and faster results you want.