October 29, 2014
Gum Removal Machines make the Impossible Possible
The last thing you ever want to see when you look under a desk or on the sidewalk outside your building is wads of gum. There was a time, when as a member of a janitorial staff, this was the one thing you really did not want to see, and with good reason. In the old days, lacking a real way to get rid of the gum, you would have been forced to whip out scraper and painstaking try to remove it. This led to all sorts of problems, and long story short, this is why chewing gum is banned in some public schools. it will still inveitably pop up occasionally, and when it does, you need to be ready for it. Besides, you have many other scenarios that might appear. For example, what do you do if you are working in a gym locker room, or even a public swimming pool? Gum is annoying and disgusting. That being said, getting rid of it is within your best interest, but you really do not want to lay beneath a bench with a chisel hoping for the best. So, have you ever considered a gum removal machine? If you have to deal with gum on a regular basis, why not take it up a notch by looking for gum removal equipment for sale? There are a few things that you will need to know, so let's get started.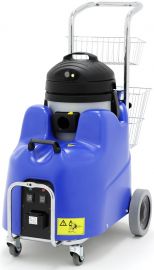 Why you need a Gum Removal Machine
Let's be honest, gum sticks. It sticks badly, and when you are dealing with it, you need something to not only break the bond, but to get rid of the gum. This is where your gum removal machines come in handy. How do they work exactly? One word: Steam. That's right, by using the power of concentrated steam you can cut a gum removal job down from hours to mere minutes, and that has to be a complete and utter relief to you. The best part, is you don't even have to touch it.
One group of gum removal machines for sale work are vapor steam cleaners. They utilize a boiler and they emit steam, but instead of cleaning carpet or tile, they usse a special chemical and tools to dissovle, remove,  and vacuum removing the gum completely . The problem you face now however is the fact that there are many different types of gum removal equipment models on the market, and it can be difficult to find the one that you personally want.
Choosing among Gum Removal Equipment for Sale
The first thing you must do is consider the boiler capacity as well as the capacity of the water tank. Remember, the larger the water tank, the longer you will be able to work, and better boilers always mean a shorter startup time. At this point, you will need to think about how large the area you wish to clean happens to be. Larger areas are obviously going to require larger water tanks, thereby requiring that you spend a bit more money to get precisely what you need. Smaller areas, such as school locker rooms will not require complex equipment at all. If you are confused or need help, you can take a look at the Daimer website and compare two or three models side by side to get a basic idea of what you are looking at. Once you have made the determination, you will be able to make your purchase and get underway.
As always, these steam cleaners will be able to reach or even exceed temperatures of greater than two hundred degrees Fahrenheit, though stronger models can get the job done in a much faster fashion. That aside, understand that when you purchase from Daimer you are receiving a high quality item – one that you will be able to count on for many years to come. You could be requisitioning it for your position as janitorial staff, or perhaps you are the owner of a facility that constantly deals with chewing gum on hard surfaces. A Daimer machine will not only get the job done for you this time around, it will continue to be there time after time in the future. It might sound far fetched, but these machines can last for a very long time, taking care of class, after class, after class, and defying all reason as they remove chewing gum of all brands and from all different walks of life. Start looking and perhaps even purchase one of these great machines today; sooner or later, you are absolutely going to need one of them in your life and at your place of employment.