November 04, 2014
Strong Steam Cleaners for the Toughest Messes
Cleaning the business you work in can sometimes be a hassle. Some cleaning machines just don't cut through the grease like they claim they will, while others don't sanitize surfaces like they should. Grease remains smeared on the surfaces, visible to customers and inspectors alike. At the end of the day, your business suffers from the lack of cleanliness. Steam cleaners nowadays promise to soften up tough grease and dirt stains to make the cleaning up easier to do, and Daimer cleaners have the power it takes. Your business will look brand new every morning with a quick run down of an industrial steam cleaner, and our cleaners make daily use easy. With a Daimer steam cleaner, ceramic, tile, sealed wood, glass, and metal surfaces will shine like new.
What is a Steam Cleaner?
Steam cleaners create a hot steam with a low water content, keeping moisture sensitive surfaces safe. The boiler creates pressurized steam, so that a jet of steam is ready at any moment. Steam seeps into the dirt and grease, breaking down their grip on the surface they're stuck to and making them easier to wipe off. The cleaner boils cold water within 15 minutes, making cleaning a smaller chore than it was before. Water in the boiler can reach temperatures up to 365° F, and yet each machine is still completely safe to use by any safety conscious person. The steam cleans, disinfects, and sanitizes every surface, making a bathroom sink clean enough to eat off of. What used to take time and a large amount of chemicals now takes a fraction of your effort. With our cutting edge technology, our steam cleaners require less cleaning chemicals than most, giving your business a smaller environmental impact and bigger savings to use. Green businesses can use our products with pride knowing that they're doing their part to keep a clean building while helping to keep a clean environment.
What Makes Our Steam Cleaners Great
Most of our cleaners feature our Auto Refill technology, allowing the user to add more water into the chamber while the machine is in use. This helps those that need to run the machine for longer periods of time. All of our steam cleaners are 100% EPA compliant; all our boilers come with a lifetime guarantee, and no machine will need professional maintenance. They're easy to use, easy to clean and easy to choose a model. There are portable cleaners, vapor cleaners, rug cleaners, and car cleaners that all have superior cleaning technology and advancements that few of our competitors have caught up to.
We also have all the detailing attachments necessary to clean each nook and cranny in the company. Brushes, squeegees and so on are at record low prices here at Daimer Industries. Other companies can charge you up to $20.00 a brush, while our promotions give you the chance to buy them at a fraction of that cost. All of our detailing items are also of a high quality that will last through continuous use over the years.
Which Steam Cleaner to Get
Choosing the right machine is just as important as choosing the right quality. A rug steam cleaner will not be good to use on glass or tile. Misuse of an industrial steam cleaner can ruin what you wanted to clean, and choosing the wrong cleaner for the job may damage the product. Misuse can cost more in parts, replacements and additional pieces than the original cleaner's price. Even choosing the wrong Daimer steam cleaner could hurt your finances more than it should. Be wary about the quality of every cleaner, as well as its intended purposes. Read more about choosing the right steam cleaner in the Steam Cleaners Buyers Guide.
Our Most Popular Industrial Steam Cleaners
One of our most popular steam cleaners is the KleenJet Pro Plus 200S. Its small size and powerful cleaning abilities make it a favorite with both large companies and homeowners. The pressure reaches 75 psi in minutes, and the boiler temperature can reach 310° F. While it's smaller than some, this cleaner packs a sharp punch with a boiler's capacity of four liters. It comes with a Daimer labor warranty of one year, and a three-year warranty on parts. The KleenJet Pro Plus comes with all the attachments necessary to clean nearly anything, with every brush and wand made with pride. As a bonus for ordering online, Daimer Industries will include extra plushy microfiber towels for free.  The attachments and towels alone would cost half of what the machine costs, if they were purchased separately. And if you order from within the continental US, the KleenJet Pro Plus, along with any other steam cleaner, will be delivered to you with free shipping.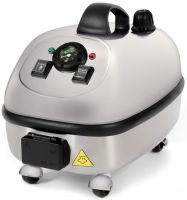 Another industrial steam cleaner that is a customer favorite is the KleenJet Mega 500VP. It's a little larger, and is multipurpose. It's a dry or wet vacuum cleaner, a vapor steam cleaner, or a HEPA steam vacuum cleaner, depending on what you need it for. Its versatility is unmatched for the price, and comes with an accessory pack valued at over $435.00. The applications of this machine are extensive, including but not limited to blinds, bathrooms, glass, and marble floor cleaning.
Our steam cleaners are the best of the best, and for good reason. The technology changes every day, and we're ready to change with it, upgrading our cleaners so that they will be easy to use, easy to maintain, and easy to afford. We want our quality to shine as much as your floors will. And with Daimer cleaners, your business and home will be clean for years to come.