February 03, 2015
Here Is What To Consider Before You Buy Your Next Steam Cleaning Machine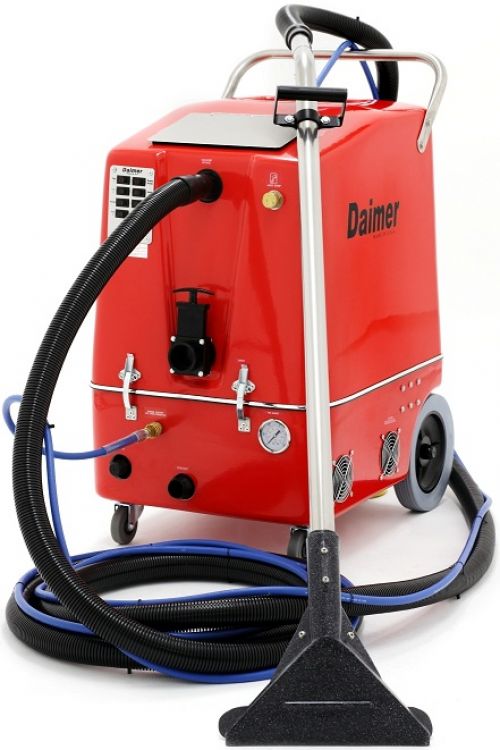 Most homes have rugs and so there is ever the need for either renting or buying a rug steam cleaner if you really want to keep your home looking and smelling nice. When you leave dirt or spills on your rugs for too long, it will result to a bad odor that emits from you carpet making the entire home smell dirty.
Purchasing a steam washer is a great investment and the worst thing would be to choose the wrong steam cleaning unit for lack of knowledge.  Before you go out and spend your hard earned cash, it's very important that you have an idea on what to consider before you buy your steam cleaning machine.  Steam washers are very handy when it comes to performing household tasks.
There is a wide range of steam cleaning machines available at Daimer.com, but which is the best for your needs?
Price
Although power and performance affect the price of steam washers, one of the major price determinants is the inclusion of accessories. These accessories enhance the function of the steam cleaning unit and make it versatile in performing other duties. The water tank size also affects the price of a steam washer. A steam cleaning unit that has a large water tank will be more expensive than one that has a smaller tank.
Portability is vital
Portable steam washers are great for moving around the house as you clean. For such a unit, you will want to purchase one that has a low weight.  Professional steam cleaners with wheels are great for use while outdoors, but they make cleaning high areas in the home quite a challenge. They are also too large to store in the house.
Power and performance
A lot of general use steamers lie within the 900- 1500 watt range.  The higher the watt range the more effective the steam washer is since it easily gets rid of embedded dirt.
How to get the most out of your steam cleaner?
Before you begin steam cleaning your surfaces, it is best to first use a vacuum cleaner carefully and slowly over a specific area at a time and you will drastically reduce the amount of dirt that may get pushed into the carpet when steam cleaning. Always blot stains when they happen to make the steam cleaning process easier. If there are any stubborn stains, treat them before you begin the cleaning process.
Before you can use any strong or homemade steam cleaning product, test it at a hidden part of the rug to ensure it does not beach the color of your rug. Steam cleaning requires lots of bending and lifting so make sure you are physically fit before you can begin this process. Ensure you stretch before, during and after your steam cleaning process. It is always wise to consult us for the recommended cleaning solutions for your rug steam cleaner. If you use cleaning solutions that we have not recommended, it may interfere with the products warranty. Begin by cleaning in areas that are far from the doorway so that when you are done, you can easily step out.
Avoid steam cleaning on cold winter days or humid summer days.  Warm dry days are the best for steam cleaning since you can even dry your rugs out in the one space. After you have cleaned your carpet, let the windows remain open to accelerate the drying time and decrease any chances of mold growth.
When your carpet has dried, vacuum clean it again so that you can pick up any remaining dirt particles.
Should I buy a portable steam cleaner?
A portable steam cleaner is usually considered the best choice when it comes to house cleaning chores. It cleans and sanitizes all the surfaces in a house without the need of using any harsh chemicals. A portable steam washer takes about 20 minutes to steam, and another 4 minutes to heat up. Apart from only cleaning small rug areas, these steam washers can be used in cleaning:
Sinks
Tiles and grout
Hard surface flooring
Countertops
Cabinet fronts
Windows and mirrors
Walls
This steam cleaning units use either tap water or distilled water which is easily turned to steam.  Since the water is usually in very high temperatures, it has the ability to infiltrate porous surfaces such as rug fibers thus disinfecting and sanitizing such areas.
A portable steam cleaner comes with accessories that are used in cleaning specific areas. Those with a straight nozzle may be used in cleaning horizontal or flat surfaces such as walls, shower units and tub. A flexible hose is also used together with a flat accessory for cleaning hard floors or a soft brush for cleaning carpets.
Where can I buy a high quality steam cleaning machine?
After you have made up our mind on what kind of steam washer you need for your cleaning needs, visit the Daimer.com website and go through the different varieties we have. Our website is easy to navigate and you will be able to maneuver your way through even if it's your first time.
Our rates are competitive and we have a wide range of financing options. We try to make our products budget friendly and we even have a lease to own program. This ensures you get the steam cleaning units as quickly as possible. All our cleaning equipment is high quality and you will really save yourself the headaches of repairs that come with cheap buys.
If you are ready for a long lasting cleaning solution for your home or commercial building, give us a call today. Our customer representatives are always happy to help you. At Daimer.com, we strive to ensure your experience buying a steam cleaner is simple and easy.