* Daimer Sets Itself Apart From the Competition

Daimer's Important Differentiators


> The Largest Line of Steam Cleaners in the Industry
> Save up to Thousands of Dollars with Daimer's Direct-Sales Approach
> Detachable vs. Permanently Attached Hoses
> Stainless Steel vs. Aluminum Steam Cleaner Boilers
> *** Replaceable vs. Welded Heating Elements
> In-house Technicians
> Separate Steam Cleaner and Vacuum Cleaner Technologies
> Lifetime Boiler Warranties on All Steam Cleaner Models
> Heavy-Duty Plastic vs. Metal Wands
Lifetime Boiler Warranties on All Daimer Steam Cleaner Models
Daimer offers unsurpassed lifetime boiler warranties on every one of our 80 steam cleaners, continuous refill steam cleaners, steam vacuum cleaners, home steam cleaners, commercial steam cleaners, and industrial steam cleaners! Accept no less than lifetime boiler warranties on any steam cleaner machines you are considering for your cleaning application. When you buy from Daimer, you do not need to buy extended warranties... GUARANTEED!

Beware! During your research make sure to determine if the steam cleaner brands you are considering include a lifetime boiler warranty. We are confident in all of our steam cleaners' reliability and our lifetime boiler warranty reflects this confidence.
> Beware of other brands offering extended warranties. These warranties can cost up to $200.00 or so extra and typically offer no more than a five year boiler warranty! We view steam cleaner boiler warranties less than a lifetime in duration a lack of confidence in the steam cleaners' reliability.

> Beware of other brands' inferior product warranties including only a one, three, or five year boiler warranty! Carefully research competitive warranties! The problem is a purchase under $1000.00 can cost you an outrageous $600.00 to replace the boiler. Feel at ease when you buy steam cleaners from Daimer as our boilers carry a lifetime guarantee!
* See an image of one of our steam cleaner boilers, and read about features separating us from other brands.

Save up to Thousands of Dollars with Daimer's Direct-Sales Approach
The bottom line is we sell direct to you without resellers and pass along the lowest prices possible. Other companies sell through as many as 3 or 4 levels of resellers so prices for steam cleaners that may/should have cost you $800.00 for instance end up at $1600.00 or more!
Astoundingly, aside from lacking our advanced, patented features that make us unique in the steam cleaner industry, other steam cleaner brands offer models with features relatively similar to Daimer, but at prices hundreds and even thousands of dollars higher than Daimer's special prices.
If you are considering smaller, more compact stainless steel steam cleaners, then why consider buying other brands of steam cleaners on the market at prices up to and over $1900.00 ... when you can buy Daimer at less than 50% lower pricing?
>>> We urge you to compare Daimer's product specifications to other more expensive brands and consider of the price difference is worth the additional expenditure.
>>> Why consider non-Daimer chewing gum removal machines for up to $7000.00 when you can buy Daimer gum removal machines and equipment for thousands of dollars less ... and Daimer offer many more accessories/tools and much longer warranties?

All of Daimer's steam cleaners' exterior housings are either heavy-duty plastic, a combination of heavy-duty plastic and stainless steel, or all stainless steel.
Examine the product specifications to read whether the case is made of metal or plastic.
Stainless Steel vs. Aluminum Steam Cleaner Boilers
Daimer offers the heaviest-gauge stainless steel boilers in the industry within every one of our steam cleaner and steam vacuum cleaner models; these boilers are virtually indestructible and can withstand up to an incomparable 800 psi of pressure for the ultimate in durability and reliability.
Steam cleaner manufacturers use either stainless steel of various qualities and aluminum as metals for constructing boilers. Stainless steel is by far the best metal for boiler construction as it can withstand the constant pressure and temperature levels. In addition, scale buildup has no negative effect on Daimer's patented steam cleaner boilers, which were specially constructed to last forever, which is the reason for our lifetime boiler warranty.
Unfortunately, aluminum is much softer metal and will absolutely nto stand the test of time. Steam cleaner manufacturers use stainless to lower the cost of their steam cleaners so they can charge lower prices for their machines. However, you will notice through your research even some higher-priced steam cleaners and steam vacuum cleaners use aluminum boilers. Why you ask? The reason is simple .... to maximize profits, even in light of offering inferior constructed steam cleaners and steam vacuum cleaners!
Absolute fact: Aluminum boilers will eventually develop holes and pitting due to the high temperatures and pressures and that will render the steam cleaners useless. The result is the boiler will require replacement, or the user will need to buy a new steam cleaner.
Imagine paying up to $800.00 or more for an aluminum boiler based steam cleaner only to spend $500.00 for a replacement boiler! Ridiculous!
Imagine buying what you thought was a high quality steam cleaner only to find you need to buy a new one after the warranty expires in a year? two years? Absurd!
How to determine a vendor's steam cleaner boiler material: The model's product specifications should list the boiler's metal, but if not simply ask the vendor if the machine is of interest to you.
The bottom line is you cannot afford to make a mistake by buying an aluminum boiler based steam cleaner, which will breakdown requiring greater expenditures. Stainless steel is the only way to go.
Rest assured you are protected with Daimer's patented, heavy-duty stainless steel boiler with lifetime boiler warranties! We consider steam cleaners an investment and the last thing you need to be worried about is machine failure due to inferior boiler metal material.
Replaceable vs. Welded Heating Elements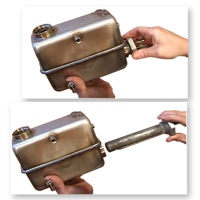 All Daimer's steam cleaners and steam vacuum cleaners include patented, replaceable heating elements versus the type of heating elements other vendors use within their steam cleaners; many other brands weld their heating elements within their welded boilers.
Why should this matter?
The fact is the heating element is the critical technology responsible for creating heat and subsequent pressure within each and every boiler, and if it fails then the options are rather limited. Either replace it if the technology exists, have the vendor replace the boiler at costs up ot $1000.00, or replace the entire steam cleaner, which would be very unfortunate, especially if the steam cleaner just exceeds its one year warranty, or whatever the vendor's warranty period.
Although vendors supplying welded heating elements would try to make you believe their heating elements do not fail, the fact remains they do fail and the consequences are less than favorable. The result is unnecessary expense and aggravation!
While malfunctioning is extremely rare, Daimer's unrivaled, patented, replaceable heating elements, which cost approximately $50.00 outside of our long warranty, are a mere fraction of the price of replacing a boiler or buying a new machine when you purchase other brands of steam cleaners and steam vacuum cleaners.
Why make a mistake when buying a steam cleaner? Daimer represents the excellent value you expect and deserve when you invest in a steam cleaner, which are designed to last many, many years!
Detachable vs. Permanently Attached Hoses
Daimer only includes detachable steam hoses and/or steam vacuum cleaner hoses with each and every steam cleaner. The benefit of detachable hoses are obvious when compared to steam cleaners with hoses that are permanently attached. In the event a hose malfunctions, the entire steam cleaner with a permanently attached hose must be returned to the vendor for repair. The problem with this technology is the freight cost is higher considering the weight of the steam cleaner versus shipping a hose by itself in the case of a detachable hose.
You benefit from every Daimer steam cleaner as our hoses are constructed to be rugged and long lasting; the probability of a hose malfunction is very low. In the unlikely event you need another hose, you can arrange to have us even overnight it to you if necessary. No need to return the machine! No need to wait! Minimize downtime! Help prevent the risk of losing profits if you are in the business of cleaning and really need a hose! Daimer can work with you and give you piece of mind!
Unfortunately, permanently attached hoses have a greater tendency towards failure, and that's where the problem begins for vendors that offer steam cleaners with this type of hose technology.
Wouldn't it be simpler to just return or replace the hose rather than return the steam cleaner? Of course it would! In addition, those who really need to use the steam cleaner and feel like they cannot be without it are truly out of luck with their defective steam cleaner and permanently attached hose. The entire machine and hose must be returned!
How to determine if a vendor's steam cleaner hoses are detachable or permanently attached: Similar to the way Daimer presents our products, you should notice the separate hoses pictured as the parts and accessories that come bundled with the steam cleaners. If the images do not include the hose, then look at the steam cleaner machine's product specifications to see if the information lists the type of hose.
Lastly, if you cannot make a determination, then simply ask the steam cleaner vendor: Is Model "X"'s hose detachable or not! If it is not, then we urge you to consider the consequences. Keep in mind some vendors often display their models with the hoses absent. This does not mean the hose is detachable as they just may have instructed their graphic designer to remove it from the image. We suggest you ask the vendor about the hose type.
Heavy-Duty Plastic vs. Metal Wands
Daimer offers no metal rods that can absolutely burn your hands!
We suggest asking vendors about the wand material. Metal becomes hot to the touch when hot steam flows through it. Daimer customers who had purchased steam cleaners from other vendors before buying from us wanted steam cleaners without metal wands because of their direct experience with metal. In addition, the metal can dent more easily.
Fact: Heavy-duty insulated plastic wands are ideal to keep it cooler to the touch, and do not become dented.
Daimer offers only the heaviest-duty plastic wands! Trust in Daimer to offer the quality materials, strong warranties, and best supports services you can count on ....!
In-House Technicians
Daimer's staff includes in-house technicians with electrical engineering degrees in the rare event you need to use our services. Daimer's service turn around for a steam cleaner machine is one of the fastest in the industry, as little as one day!
Some of our customers who had purchased from others before coming to Daimer mentioned our competitors took up to 6 months for turnaround time when they experienced a problem with their machine, requiring the product be returned repair! UNBELIEVABLE! UNACCEPTABLE!
The Largest Line of Steam Cleaners in the Industry

Daimer offers the largest number of advanced steam cleaner and steam vacuum steam models worldwide! Unfortunately, some small competitors offer only one steam cleaner model (that's all!) with no continuous refill or extraction! Steam cleaners with pressure caps do not meet everyone's needs, and many people require continuous refill or steam vacuum cleaners to maximize cleaning productivity.

Those steam cleaner resellers are obviously motivated to sell the technology they offer, and will attempt to dissuade people from considering continuous refill or steam vacuum cleaners. This is one of the oldest and most obvious sales strategies, but one which insults the prospective steam cleaner purchaser's intelligence. In fact, many Daimer customers were amused when reading some other websites' content before buying from us.
Fact: Daimer's continuous refill steam cleaners and steam vacuum cleaners are rugged, technologically outstanding, and more reliable than other brands in the industry. Daimer includes a host of unique patented features with every single steam cleaner, continuous refill steam cleaner, and steam vacuum cleaner, and includes the best warranty in the industry ... GUARANTEED!

See a partial customer list containing home, commercial, industrial, institutional, and government users of continuous refill and steam vacuum cleaners. Conventional steam cleaners with pressure caps may meet many requirements, but not all. A large percentage of our customers enjoy the benefits of our continuous refill steam cleaners and steam vacuum cleaners each and every day.
Separate Steam Cleaner and Vacuum Cleaner Technologies

Every one of Daimer's steam vacuum cleaners uses two distinctly separate technologies that work beautifully as if they are one technology when the steam vacuum hose and power cord are connected to one another. Use fingertip control or select the vacuum with the simple press of a button on the hose gun handle and vacuum to your heart's content. In the very, very rare event the vacuum motor experiences a problem, you can still operate the steam cleaner, and we can easily ship another motor as quickly as you need it.
Thank goodness, Daimer's separate technology approach makes wonderful sense and means we have a very low probability of problems, period!
Related Products
Related Articles