April 22, 2015
What to Consider when Purchasing a Commercial Carpet Cleaner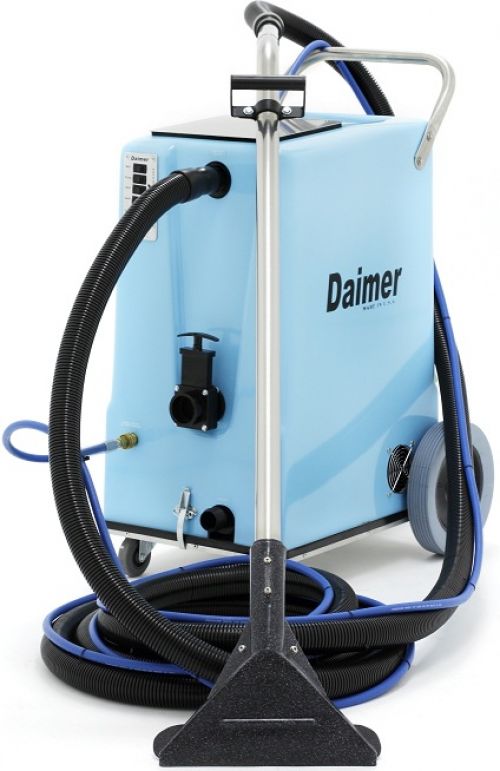 Have you noticed that your carpets appear dingy and dirty? If so, you likely know that there is no shortage of options to get them looking great again. One of these options, which is extremely popular, is to purchase a commercial carpet cleaner. However, with all the different machine options that are available, it can be difficult to know which one is best for your particular needs. Some things you should consider when purchasing this type of carpet cleaner are highlighted here.
The Size of the Commercial Carpet Cleaners
The machines that are better at lifting embedded dirt will have a much bigger and more powerful motor. This means that if you have a large amount of carpet to clean, or are cleaning a high traffic area, such as an office complex, then you should purchase a full size machine. However, also consider the warranty when you purchase a machine. While you may need the larger, industrial sized option, there are some that require you to use their cleaning solution, or you may void the warranty.
Some of the size options you have to choose from include:
These cleaners are usually larger and may have to be transported by special equipment in order to arrive at your location. These are typically only used by professional cleaning services.
These cleaners are ideal for smaller jobs and much easier to move from place to place. They also are easier to move and store when not being used.
If you have a relatively small space to clean, that is not very soiled, then you may be able to purchase one of the smaller versions sold at most stores.
Pros and Cons of Renting a Commercial Carpet Cleaner Machine
There are some commercial carpet cleaner machines that can be rented for a fairly affordable rate. However, you have to keep in mind how often you will have to rent the machine. If this is a job that needs to be done on a weekly or even monthly basis, the rental charges are going to quickly add up. In these situations, you will come out better purchasing a machine, rather than renting one time and time again.
Consider the Features and Accessories Offered with a Commercial Carpet Cleaner for Sale
In many cases, the "selling" point of one commercial carpet cleaner over the next is the features and accessories it offers. Some of the most common features you should look for include:
Upholstery wands: These wands are designed to easily clean upholstery on your couches, chairs or other furniture items.
Wands: You can find wands for various commercial carpet cleaner machines in a number of sizes and types. Consider your needs to find the ones that are best for your machine.
Stain tools: If you will be cleaning carpet on stairs, this toll is a must.
Curtain tools: Keep your curtains looking great with the curtain tool.
Crevice tools: Get in between the crooks and crevices and other hard-to-reach places with the crevice tool.
Dual tanks: A machine with dual tanks will hold more water and minimize the time necessary to get a job done.
Water heaters: Some carpet cleaning machines are offered with heaters integrated into the tanks to increase the cleaning power.
Consider the Brand of the Commercial Grade Carpet Steam Cleaner
There are a number of different brand options to choose from when looking for a commercial carpet cleaner. You need to do some research to find out which brand is right for your particular needs. For example, there may be one brand that is more well-known for its drying power, while others provide quality work for an affordable price. Consider the needs of your carpet and then choose a brand that can meet those needs. Doing this will help you find the right carpet cleaning machine for your home or business.
Remember, if you are going to be cleaning the carpets in a high traffic area, you should try to find a brand that is designed for this type of use. While these machines are likely going to cost more than the smaller machines used for spot treatments, they will be well worth the investment if you will need to clean your carpet on a regular basis.
Should You Hire a Professional for Using Commercial Grade Carpet Cleaners?
If you are planning on cleaning the carpets in a large building or complex, hiring a professional to use the equipment may not be a bad idea. However, if you already have a janitorial staff on-site, they should be able to use it effectively. Once you purchase a machine your staff can become familiar with the way it works to ensure an effective and efficient clean every time it is used.
When you take the time to consider all of the factors highlighted here, you will be able to find the best commercial carpet cleaner for your needs. If you simply purchase the first one you come across, you may discover that it is too larger, too small or not effective in cleaning the type of carpet you have at your location. Be thorough and you will find that you have purchased the right carpet cleaning machine for your needs. If you are still unsure, ask the professionals for a bit of assistance regarding how to best clean your carpets.