December 22, 2014
Heated and a Non-Heated Commercial Carpet Extractor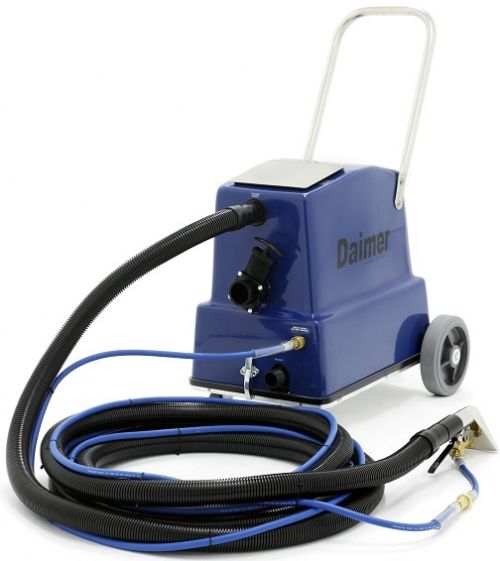 As the owner or operator of a commercial business site, the responsibility for ensuring the facility is clean falls on your shoulders. Along with all the other general cleaning comes the flooring. If your rooms have carpeting, you understand the task of completing all the vacuuming, shampooing, and washing. When your company is one that sees a lot of customers, you do not only have to clean up after yourself and the employees, but also the extra feet that walk through the door every day. From the outside, it is easy for leaves, dirt, mud, snow, and salt to be drug in leaving unsightly stains. The break backing carpet cleaning can be made a lot easier with the assistance of a heated commercial carpet extractor or a non-heated commercial carpet extractor. The toughest decision you have to make, is which one will work best with your flooring. Also deciding if you can benefit from a truck mounted version should be figured in when comparing which style you should choose.
What do you Get with a Heated Commercial Carpet Extractor
Generally speaking, hot water cleans deeper and better than cold water. This is why many people choose to use heated commercial carpet extractors. The hotter the temperature, the deeper the clean. We have several models that reach temperatures of up to 210 degrees Fahrenheit.
The Xtreme Power XPH-9300 can be ready for you to use at its highest temperature in as little as five minutes. We use the most up-to-date technologies to ensure you can get the best clean for your money. This specific unit also operates at high-pressure levels of 220 PSI, something that is not often seen in similar models by other manufacturers. The low-flow cleaning system offers a swift drying time of just two hours. When you do not have time to keep your patrons out of your business, this is the unit you want. You can come in a couple of hours early and start the morning fresh with newly cleaned flooring.
When you are looking for something for your home that could also be useful at the office, our Xtreme Power XPH-9600 is a great option. This is high-powered and effective for low pile carpet cleaning. Your pump pressure is variable and can be anywhere from 0 to 500 PSI to match with the strength that you are looking for. With two inline heating elements, you can be ready to clean at the highest temperature within just a few minutes. Do not waste any more time dumping water and filling solution with the auto-filling and dumping functions. Your machine will continue to operate until you are done with it. The low-flow feature allows for less water to be applied so that you not only use less water, but the drying time can be completed in around two hours. This comes with the 12 inch patented wand and free eco-friendly cleaning solution. Along with all the other great features, this machine can be truck mounted for an even more versatile use.
Why Would You Choose a Non-Heated Commercial Carpet Extractor?
With all the benefits of a heated commercial carpet cleaner, you are probably wondering why you would want a non-heated commercial carpet extractor. The answer is because depending on the mess and the carpeting type, you may not want to apply hot water to the surface. If certain foods and other substances are cleaned with hot water, the mess is actually going to get worse instead of better. Wax, blood, and even eggs do not respond to a hot water cleaning. If any of these substances are commonly found in your establishment, a non-heated extractor is going to be a better investment. You also need to contemplate the type of carpeting you have. Read the cleaning directions, and you may be surprised to see that hot water cleaning is not recommended. This is especially common for wool carpets and other more delicate fabrics.
We have a non-heated carpet extractor that will work for cleaning up specific spills in hospitals, restaurants, and homes. The Xtreme Power XPC-9200 is non-heated yet still offers the same power as our other units. It has a pressure level of 220 PSI that is the same as the heated model of the same type of cleaner. The low-flow drying option saves you money on your water bill and allows for a drying time of six hours. This type of cleaning is one that would have to be done at the end of the day when all of your customers have gone. With an enormous 17 gallon tank, you or your employees are not going to be wasting tons of time running back and forth to change out water. To give you the most advanced clean available, our top rated extractor comes with our 12 inch patented wand. This allows you to cover large areas quickly and without getting tired. You will also benefit from the two free gallons of environmentally friendly carpet cleaning solution that is included with the purchase.
Affordable Commercial Carpet Extractors
Paying for a carpet extractor may be something that you do not want to have to do. With our affordable commercial carpet extractors, you will not feel the sticker shock that comes from other brands. By comparing the specifications and prices on our website, you can find the right machine to fit your requirements and your budget.