Relief of Allergy Asthma Symptoms Through Carpet Cleaning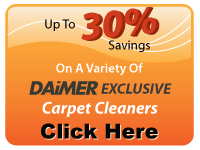 Carpet fibers receive a lot of unwanted visitors including dirt and stains. However, these things, while an annoyance when trying to upkeep a carpet's appearance, don't have an effect on a person's health. Things that do affect people's health that get into carpeting include dust, dust mites, mold, mildew, and fur. In fact, not addressing accumulation of these elements can result in a specific condition called allergy asthma. This condition can come with a variety of symptoms including coughing and breathing difficulties.

Unfortunately, vacuuming by itself will not relieve these allergy asthma symptomsas vacuuming only removes allergens stuck on the surface of the carpet. The best methods for relieving allergy asthma symptomsare through professional, home, or commercial steam cleanersor carpet cleanersalong with eco-friendly, 'green' carpeting cleaning chemicals and solutions.

Steam cleaning or carpet cleaning machines are highly effective at relieving allergy asthma symptoms. Daimer's XTreme Power® and KleenJet® series are carpet cleaners and steam cleaning machines, respectively, that are superb at getting rid of allergens in the carpet. They can be used with just water or in conjunction with Daimer's exclusive eco-friendly carpet cleaning solution known as Eco-Green ® .

Eco-Green ® is useful to the allergy asthma sufferer because it does not release hazardous chemicals into the air like brand-name chemical carpet cleaners. The only care that needs to be taken when using a steam cleaner or carpet cleaning machine whether used with or without a solution is that one does not use too much water. Using too much water can facilitate mold or mildew growth, which would make allergy asthma symptoms even worse. Additionally, one should also make sure to heat the water if they purchase a carpet cleaner that is non-heated… this step helps to kill germs.

In conclusion, steam or carpet cleaning machines and green carpet cleaning solutions are what is needed for relief of allergy asthma symptoms. Indeed, it is important that one turns to these methods before reaching for the carpet cleaning brands that seem the most convenient. This is because chemical carpet cleaning solutions are also not good for allergy asthma sufferers since they release harmful byproducts into the air. On top of that they tend to leave an annoying residue which many times still contains the dirt and allergens that originally caused the allergy asthma sufferer problems. There is definitely a price that is paid if one uses these types of solutions, and it is a high one: their health. However, since doing absolutely nothing is equally as harmful, it is best to stick to what has been discussed in this article.
Related Products
Related Articles