October 31, 2014
Take your Cleaning up a Notch with Commercial Pressure Washers
Grease and grome accuumulation happens, and no one can deny that. It could be on your floor, it could be on your vehicle, or perhaps even on the walls of your factory or commercial kitchen. There are so many things that can happen, many of which require what your ancestors liked to call 'old fashioned elbow grease'. Sometimes however, either that 'elbow grease' doesn't work as well as you would like it to, or you may find that it simply is not that efficient. Either way, you may have your work cut out for you, and you will need to find a solution. Let's consider commercial pressure washers for a moment. These are great additions to any arsenal, though you should think carefully before you actually purchase one. One of the most important things to keep in mind here is that we ARE talking about commercial pressure washers, or even a commercial electric pressure washer rather than the residential versions that you would purchase at your local retail store. While those might work in a pinch there are a few problems. For example, they cannot reach the pressure you would need in a commercial situation. Sometimes you will find a commercial grade pressure washer for example that can reach as high as or over 3000 PSI(pounds per square inch) and while that might sound excessive, it is actually quite necessary in this line of work. In other words, you are not washing your car at home in your driveway; there are many other applications for pressure washers commercial.
What are the other uses exactly? Rather than washing cars you might find yourself using the pressure washers for things like floors, walls, ceilings, and even other hard surfaces. Basically if it is dirty, and if it can withstand the PSI and water volume, a pressure washer is simply going to become your best friend in the matter. Not only will you find that it gets the job done, you will also find that it does so in what could be considered a timely manner. Actually, you might start using a pressure washer as opposed to just picking up a broom – it is cleaner, after all.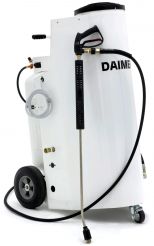 Choosing a Commercial Pressure Washer
So how do you go about choosing a pressure washer? The first thing you need to decide is what sort of power source you want. For example, there are those that run on gasoline, and of course those that are electric. Your first instinct might be to choose one that runs on electricity simply because electricity is so much more accessible and ready. Well, you would be right, but you will find that electric washers cannot always attain the same level of pressure. Along with that simple fact, you will be tethered to the wall, and perhaps unable to reach certain areas of your facility. That being said, you have some decisions to make, and you might want to go the fossil fuel route instead. Don't despair; it isn't all bad!
If you choose to make use of a fossil fuel based solution, you will find that you can have greater flexibility and more power without the need for a 230V or 480V electric supply . Additionally you might have a greater flow rate which helps you to get the job done faster. A pressure washer can be used for so many different things, but you need to make sure you get the right one for you.
Heated pressure washers are yet another thing for you to consider. Some of the more basic models do not have heating, obviously, but if you look at the higher end variants, you could find yourself looking at propane heated models. If you want to go the propane route however, it would be a good idea for you to look at local propane prices and see if it is feasible. There are some areas where propane is much easier to access than others. Another option is oil heating which is gaining traction rather quickly, and it might be something for you to look into. In the end, however, what you purchase is entirely up to you. The important thing is to make sure it is not only relevant to your business, but that it can actually handle the work load. The last thing you want is equipment broken due to overuse.
What to Watch out For
There are many things for you to watch out for, generally the PSI (Pounds per Square Inch) along with the GPM (Gallons Per Minute). Also take a look at the maximum temperature of the unit, as some can reach as high as 300 degrees Fahrenheit. Once again, what you purchase is entirely up to you, and in any business, a good pressure washer really can serve to make all the difference in the world. You will be able to clean a factory floor faster than ever before, and you will have the ability to clean an entire fleet of vehicles within a few hours. The possibilities are nearly limitless and it's time that you took advantage of them.