October 17, 2014
An Industrial Pressure Washer to Address Your Dirt and Grime Problems
In business there are many decisions to be made. From the employees you hire to the contracts you take on, to the equipment you buy. On the subject of equipment, there are many things that you might need to buy, but not all of it directly affects your productivity. There are certain things that you might not have anticipated such as messes. For this reason, you might want to start searching for industrial pressure washers for sale to supplement your current arsenal of cleaning supplies. It might seem like a bit much at the moment, but at some point you will come to realize that when it comes to cleaning, NOTHING is ever too much. So what is it about industrial pressure washers that helps them to stand out above the rest? Why should you start seeking out an industrial hot water pressure washer? ? An industrial pressure washer has many benefits both in terms of profit and the very act of sanitation throughout your facility. Let's explore some of the most common features of pressure washers.How will it help you exactly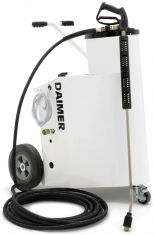 The features of the Industrial Pressure Washer
If you are in the market for industrial pressure washers there is a good chance that you have already spent a good amount of time searching for one on the consumer market, which isn't necessarily a bad idea. The problem with the vast majority of basic consumer pressure washers is that they lack the flow capacity and the pressure to get the job done properly. They might do a better job than your average garden hose but they are nowhere near the strength and capacity of the industrial steam pressure washer that you might buy from Daimer. Some of the benefits are pretty clear, such as pressure levels that range from 750psi to 8,000psi; not something that you would find in the average residential garage. You also have to consider the temperatures, one of the highest reaching 330 degrees Fahrenheit which is comprehensive but still completely safe. Finally, the engines utilized by industrial pressure washers are much stronger than residential models. We are not saying there is anything wrong with the residential variants, but sometimes you need a little more of a push to get clean. 
The Challenges of Industrial Cleaning
With industrial cleaning comes a number of different challenges such as different types of dirt, tougher grime, and even grease deposits that simply do not want to come up. Then you have to deal with the potential for chemical and oil spills depending on the type of building or industry you are in, and you simply cannot rely on conventional cleaning techniques. Of course you could simply leave the mess and hope for the best, but when you do that, you face a few different problems. For one, the employee morale will drop through the floor, and secondly, the health department will not appreciate your new found philosophy regarding sanitization. In the end, this non-compliance can actually lead to fines and enhanced monitoring from the health department, ultimately making it better to comply in the first place.
Industrial cleaning is a bit of a mixed bag to put it mildly. You could be cleaning a variety of different surfaces along with several different types of spills. You may find yourself dealing oils, emulsions, colors, dyes, or something as simple as paint chips. In the end, whatever it is, you will be far better cleaning it up and providing yourself with a cleaner work environment. With a good industrial cleaner you can remove dirt marks, rubber streaks, and other stains from a plethora of surfaces without an excess amount of scrubbing.
The Mechanics of Industrial Pressure Washing
Why exactly do we use water as an abrasive? First of all, it IS an abrasive, which makes it very useful for removing dirt and grime. Secondly, it is not considered a dangerous chemical, making it perfect for areas that require the utmost in cleanliness. For example you would want to use a pressure washer, heated or not, in a kitchen setting, such as on the floor or perhaps even in an operating room before or after a procedure. Though dirt and grime have adhesive properties, water can easily unseat them and allow you to clean the entire room, floor, or walls without putting serious effort into the task. In addition to that, it tends to save a considerable amount of time, and in any business, time really is money. That being said, you simply cannot do without a good pressure washer.
Daimer has plenty of pressure washers for you to choose from, so start looking at the different models and decide not only what specifications you want, but also what sort of power source you want to use. Electric and gas are the two main contenders, and it all comes down to you and your current setup. The most important thing however, ist hat you get clean!