May 04, 2015
Clean Effectively with the Super Max 7000 Industrial Pressure Washer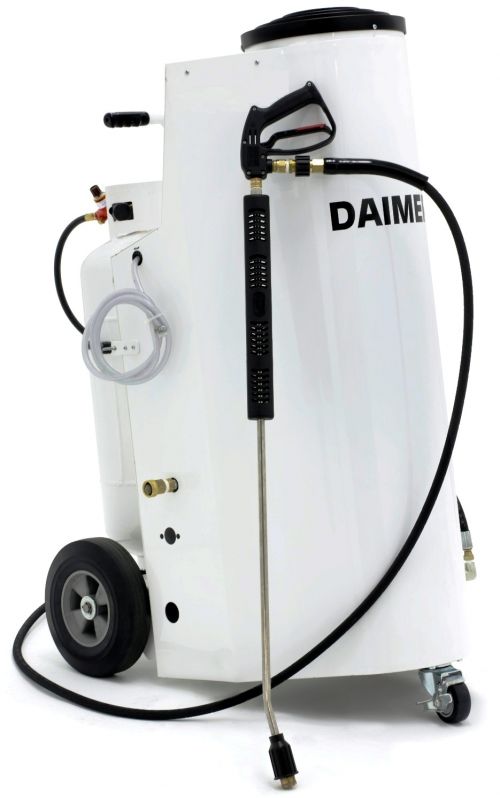 Not all industrial pressure washers are created equally. In order to get your indoor or outdoor space cleaned effectively, you need the help of a powerful unit. Your business deserves to work with the best tools for the job and to have an efficient clean every time. The Super Max 7000 is a popular industrial pressure washer that is portable, but has strong features and a durable design. With 1000 psi of pressure and a 2.5 GPM flow rate, you can remove grease, mold, mildew and even chewing gum from hard surfaces. Learn more about the Super Max 7000 with this in-depth look at one of Daimer's most popular models.
Popular Super Max 7000 Features
There is no doubt that the Super Max 7000 is a powerful pressure washer. Aside from the efficient design, the pressure washer has a lot of features that any business could take advantage of. The unit meets USDA guidelines for food and beverage facilities, both indoor and outdoor. High temperatures allow you to dissolve chewing gum and other materials in a matter of seconds.
Because of its wide range of features, the Super Max 7000 has become a popular choice for:
Kitchen hood cleaning
Degreasing kitchen floors or walls
Industrial equipment cleaning
Food and beverage manufacturing equipment cleaning
Patio cleaning
Removing surface grease or build up
Commercial coil and condenser cleanup
What Separates the Super Max from Others
There are dozens of different industrial pressure washers on the market and each one has something unique to offer a business. The Super Max 7000 stands out by offering a variety of practical features at a reasonable price point. Here are just some of the examples of great features found in the 700:
1000 psi of pressure and 2.5 GPM flow rate for a fast clean.
Multiple temperature settings for wet steam, hot water and cold water pressure.
Dissolve dirt and grime with temperatures up to 330 degrees.
Low water usage to improve efficiency.
Heavy-gauge stainless steel coils for improved durability.
Includes durable wand, nozzle and 25 foot high pressure steam hose.
The high temperatures and powerful output is by far one of the most noticeable features of this pressure washer. It is designed to be able to handle the needs of most businesses, both indoor and outdoor. The adjustable settings make it easy to clean sensitive areas, including pavement.
While the Super Max 7000 offers a powerful clean, it is designed to do so as quickly as possible. By taking advantage of the latest technology, the unit has what it takes to instantly dissolve some dirt and grease. For example, when using the pressure washer to remove gum from outdoor surfaces, all you would need to do is go over the area to rapidly dissolve gum. This makes the pressure washer an indispensable tool for businesses that work with the public.
A portable design also helps you clean in a number of ways. You or your staff members will be able to move the pressure washer to wherever it is needed. Long hoses make it possible to keep the device in one place for a longer period, which also helps you to get the clean you need at a much quicker pace.
Another  notable feature; however, is the exclusive automatic-shutoff technology available on the Super Max 7000 AST. This optional feature is perfect for use with longer hoses or in situations where your employee may need to stop cleaning to help a guest. The safety feature waits 30 seconds when not in use and then shuts off to conserve power. Once the gun trigger is pulled, the machine will automatically restart, allowing you to pick up where you left off.
Why the Super Max 7000 is Popular
Many of the features included on the Super Max 7000 model help to make it popular among other Super Max models. 
The fast heater response time also makes it very effective on job sites. Once the machine is started, it can convert cold to hot water in about 30 seconds. It is also designed for continuous use, so even the largest jobs can be tackled with ease.
How to Buy the Super Max 7000
While the Super Max 7000 is an industrial pressure washer, it can have several practical uses in both homes and job sites. Anyone can purchase the Super Max by using the Daimer website. You will be able to get more detailed information on the unit, which can help you make an informed decision before buying.
If you are trying to decide between the Super Max 7000 and another pressure washer, you can also contact us directly. Our knowledgeable staff members can help you compare the models. This will help you see which one is the better fit for your operation.
Don't struggle with trying to remove gum or grease from your building. Invest in a commercial pressure washer that can get the job done right in a matter of seconds. Contact Daimer directly to get more information on the powerful Super Max 7000.